Shopping Cart
Your Cart is Empty
There was an error with PayPal
Click here to try again
Thank you for your business!
You should be receiving an order confirmation from Paypal shortly.
Exit Shopping Cart
My Naples Home Services LLC.
HELPFUL CROCKERY AND KITCHEN WASHING TIPS:

Rarely do I find myself making a full breakfast on a daily basis like I do when on a camping  trip because it seems not as enjoyable as bacon on the outdoor griddle, home fries in the cast iron and scrambled eggs yummy! PROBLEM! Ugh! The lingering leftover aroma of egg.

Many advise using and washing with Lemon, vinegar, coffee and even flour. I always carry a small 64 oz. (2 QT) jug of Clear Household Ammonia with me on camping trips for under the kitchen sink.

FIRST TIP: NEVER walk away from the dishes, cups and utensils for long. Clean up right away. 
SECOND TIP: Rinse all items first clear of food and grease. 
THIRD TIP: Fill the sink or a large washing container with hot water, a few squeezes of grease cutting dish detergent and 1/2 to 1 cup of Clear Household Ammonia. Wear rubber cloves, wash as you normally do, using a small amount of soap on your clean sponge or rag, rinse well and set on drying rack. This goes for utensils, cups and other cookware other than cast iron. 
The same for the DISHWASHER at home. Using your normal dishwasher tab and less than 1/3 of Clear Ammonia

SAFETY REMINDER:
1. Ammonia of any kind should not be mixed and is not a friendly fellow with any other products except for dish soap, baking soda and vinegar in my experience. 
2. Take care not to be a hero by getting a good whiff. This could be very dangerous. Stay back for a moment, wash with rubber gloves for protection, use a small amount of ammonia for safety.
3. Household ammonia is a solution of NH3 in water (i.e., ammonium hydroxide) used as a general purpose cleaner for many surfaces.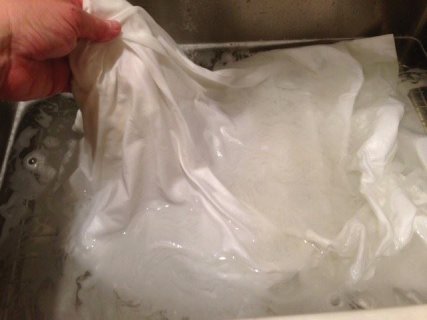 REMOVING MAKE-UP FROM PILLOW CASES OR BED LINENS

Removing make-up stains from pillow cases or bed linens has to be one of our biggest challenges. No matter how many cleaning items we have in our buckets we could never have enough with all the tasks that come our way. Even so….detecting the stains before washing the item is also tough. King size sheets and duvet covers are so big that a smudge of eyeliner or face powder stains can go undetected and then it's almost too late.
Light colored face clothes and hand towels have been ruined by removing certain types of makeup that cause bleaching effects, rendering the towels unusable for guests. We are constantly looking for solutions and simple tricks. Keep in mind that different types of make-up will respond to different types of cleaning solutions, and successful removal is dependent on knowing which solution works best for the type of stain you have.
Lipstick is a mixture of waxes, pigments and oils. Foundation or base used to cover and smooth complexion are oil and emollient based. Powder base are made of a lighter oil. Mascara is most commonly made from wax thickeners, water and pigment. Cleaning solutions are based on different types of ingredients.
Cleaning Solution: To Remove Lipstick:  Rubbing (Isoprophyl) Alcohol or Witch Hazel
To Remove Mascara and Eye-liner:  Dawn or Ajax dishwashing liquid (and a drop or two of water).
To Remove Liquid Foundation:  3% hydrogen peroxide solution.
To Remove Blush, Eye Shadow or Powdered Foundation (non-oil based):  Mild laundry detergent (liquid) WITHOUT bleach/bleach alternative
I have tried grease cutter, soaking in Clorox-2 and laundry stain remover such as Shout or Tide. Continuous applications of different products can cause further damage to the linens or pillow cases. Certain fabrics are also a consideration. If all else fails, try taking your item to a professional cleaner.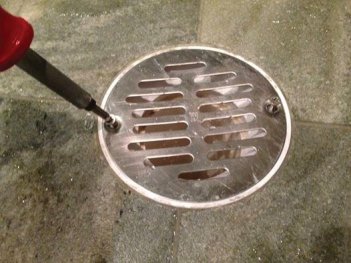 BATHROOM SHOWER DRAIN CLEANING
Cleaning a shower drain is easy and takes only 10 minutes to do. The process helps to eliminate odors and soap scum, and at the same time allows you to check on any drain clogs and calcium build-up. Calcium deposits typically accumulate in areas where water is constantly present. Since water is continuously washed down your shower drain, the calcium deposits are common, and the buildup can multiply quickly. Keep the pipes clear of the calcium buildup with inexpensive household items that dissolve the calcium as well as any other buildup off your drain and pipe walls without damaging the plumbing system.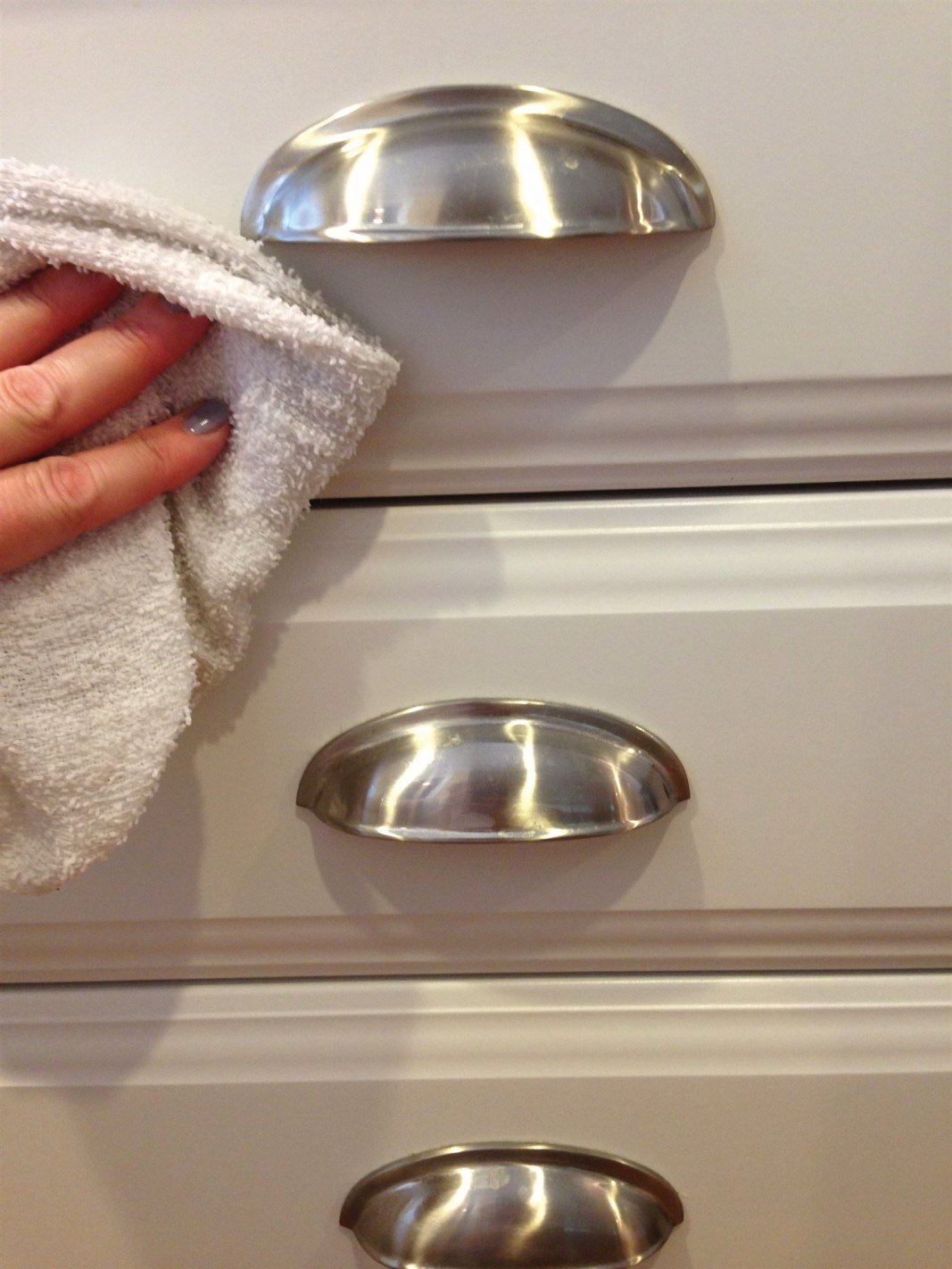 CLEAR AMMONIA
Not to many people are thrilled about cleaning with ammonia. They just can't tolerate the harsh smell. I have to say I always keep a bottle in my cleaning bucket and here are some of the tasks ammonia can contribute to a real good clean and shine.

1. Garbage cans
2. Faces of white cabinets, doors, baseboards, woodwork
3. Crystal and add a dash of soap
4. Bathtubs
5. Ceiling fans

Ammonia can be a good all purpose when diluted safely.
Experiment on other areas using caution.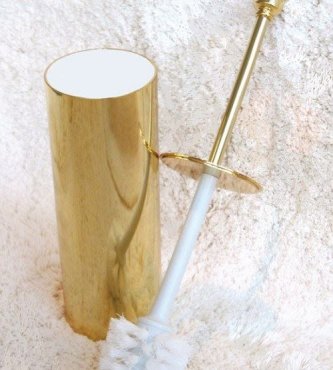 Toilet bowl brushes and holders come in various styles from plastic to stainless, wood and decorative. A domestic tool designed to clean the "John". It has been noted that toilet bowl brushes were originally made of wood and the bristles constructed using the hair of horses or squirrels.
In our modern world the toilet bowl brush and holder have become one of the most popular decorative additions to our bathrooms. Some holders designed for luxury homes plated inreal 24-carat gold.
As a housekeeper, here are a few simple tips on how to maintain our toilet bowl brushes and holders. Housekeeping etiquette with suggest, an unsightly, dusty toilet bowl brush and holder could raise a few eyebrows so when using a toilet bowl brush and holder in a powder bathroom used by guests, take special care in selecting the right one so it does not become the focal point of the bathroom. Choose a tall, narrow stainless steel holder or a tall, narrow plastic holder with a hidden brush inside. Do not store toilet cleaner behind the toilet in this bathroom, but inside the cabinet if one is available. Some may assume your guest will use the brush and the cleaner in the event it is needed, but will likely try to avoid such a task.
There are no rules to the master or guest bathrooms when choosing a toilet bowl brush and holder and some have been known to purchase the funkiest and outrageous just for laughs.
When to replace a toilet bowl brush depends on the amount of use. Over time the bristles become brittle, frayed and can turn a yellowish color. This can cause unsanitary conditions. Maintain the toilet bowl brush and holder by using rubber protective gloves for safety, soaking the brush in a bucket of bleach and water and rinsing thoroughly. Dispose of the water directly into the toilet bowl. Wash the holder with a disinfectant solution removing dust and residue and replace the brush back into the holder. Repeat at least once a month.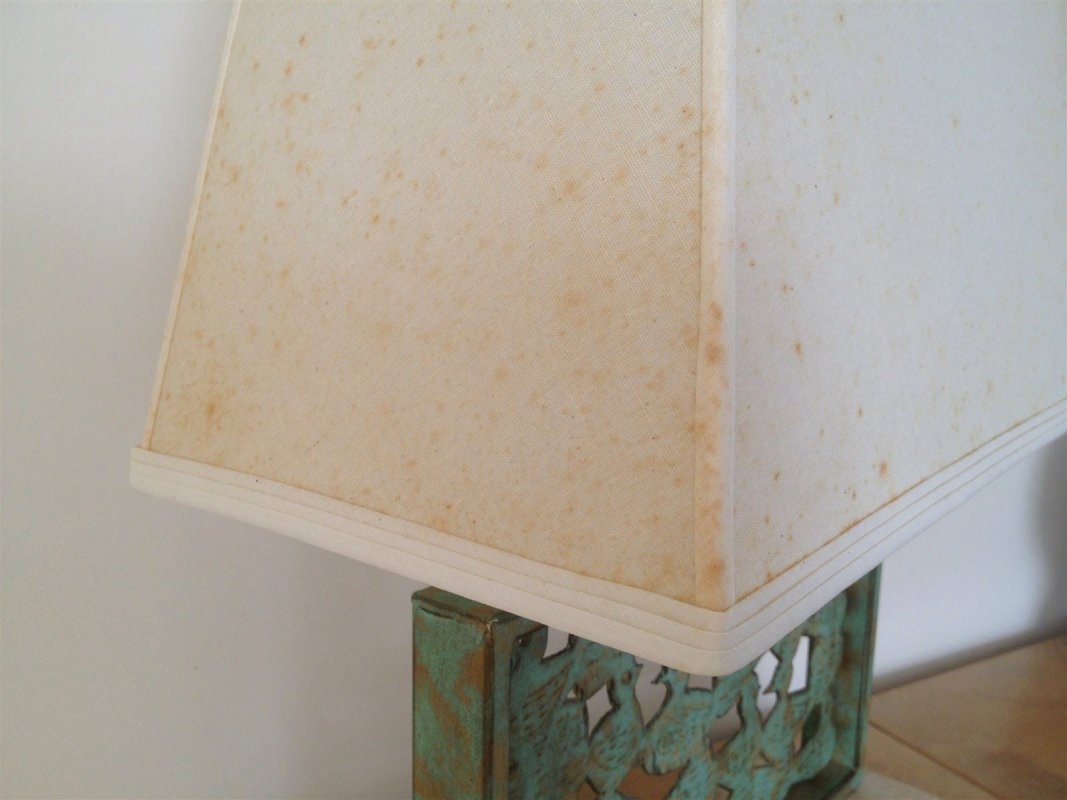 Maintaining Lampshades
I would love more than anything on my business cleaning routine to soak this lamp shade in a solution, clean it right up and call it a day, but humidity, dust buildup and other factors can turn your lamp shades yellow and spotty and cleaning them can be a total nightmare.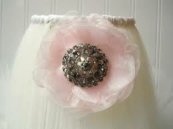 Each lampshade type has its own durability and can be very fragile.
PAPER lampshades have to be wiped so gently with a clean, soft paintbrush because they dent so easily and become unattractive. HARDBACK shades have laminated paper or fabric that is glued and soaking them in water will destroy the glue and cause the fabric to come loose from the frame. PARCHMENT shades are made from a variety of fabrics and materials and come in customized designs and paint finishes and SILK lamp shades are constructed with a fabric lining stretched across the inside of the wire frame and another on the outer portion of the wiring. The level of cleaning is determined by the shade type. Silk lined lampshades are so fragile that the heat alone from the light bulb, over time can cause separation just by touching the inner lining. 
As a part of your weekly cleaning routine there are a few methods for maintaining your lampshades. Using a soft bristle vacuum brush attachment, carefully vacuum and remove excess dust.
A clean, soft-bristled paint brush is also a handy tool to keep in the cleaning bag and a soft, damp cloth or sponge to remove minor spots. If the lampshade is beyond dusting and you decide to submerge or wash the lampshade, make sure you are ready to purchase another just in case the outcome is not as positive as you hoped.
In this case fill a bathtub or large basin with warm water and mild detergent such as Ivory, swoosh to create suds. Drain the tub leaving only the suds. Gently wash the lampshade using the suds only. Agitate with a sponge or white cloth to remove stains.
Avoid glued areas. Rinse a damp cloth in cold water and wipe again until suds are removed. Dry on a clean cloth in the sun or hang until lampshade is thoroughly dry. If you decide to submerge the lampshade in the tub of water without draining and continue the process above, rinse lamp shade thoroughly with water after cleaning.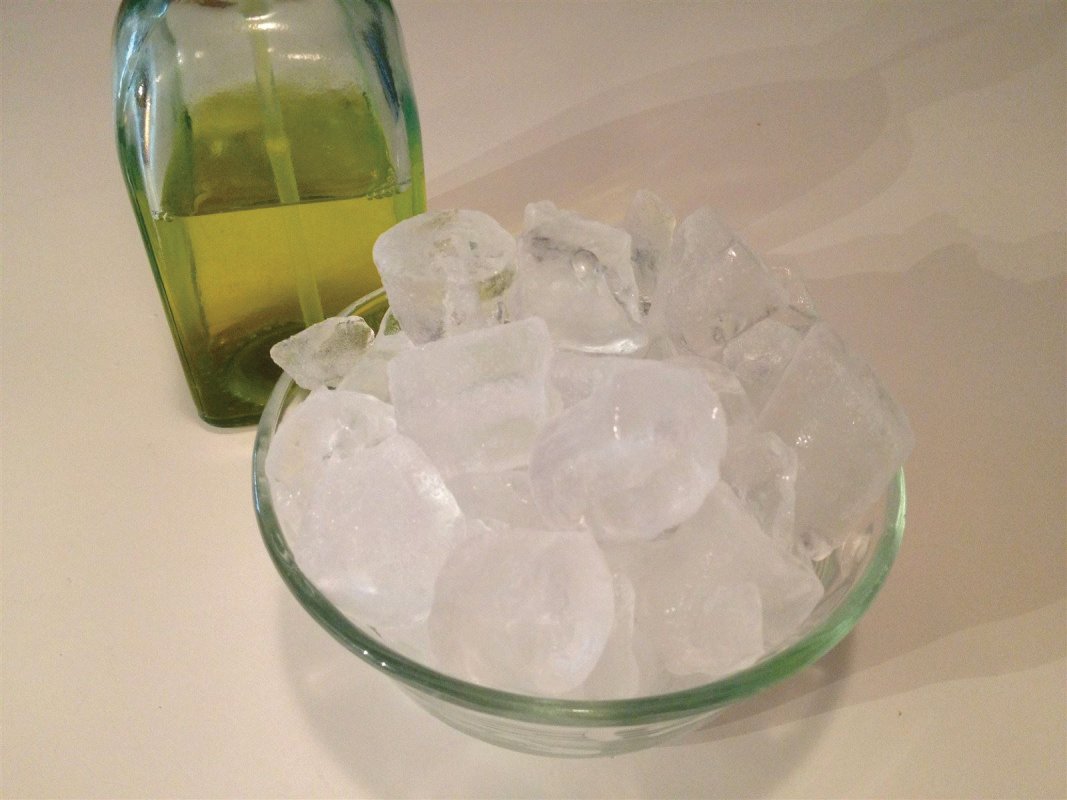 Keeping your garbage disposal clean may also control foul odors and bacteria. When grinding food always use cold water as hot water tends to cause grease to liquefy and accumulate.
Try tossing a small bowl full of ice in into the garbage disposal. As the blades chop the ice cubes, the chips will help to remove grease build up and food particles which may be stuck to the blades. For weekly maintenance pour liquid soap into the garbage disposal while running the blades. You may also use baking soda and vinegar. Allow the bubbling action to do the dirty work. Finish off the job with a few shakes of lemon juice. An angled scrub brush makes it easy to clean the inside of the garbage disposal.Look for this brush in your local hardware or grocery store.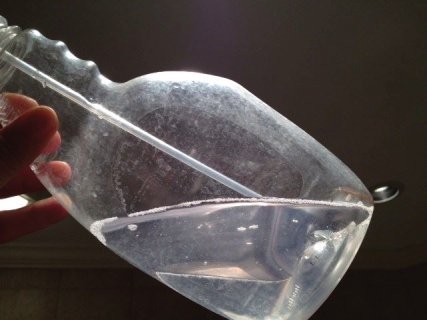 Does the inside of this unmarked brand name plastic bottle look like your shower door, tile or grout? It's time to evaluate your daily bathroom shower cleaners that you keep handy next to your shampoo. Don't be a victim of having to replace your shower door.There is a better solution. Check it out for yourself and you decide.
/